Reverse Shoulder Replacement Surgery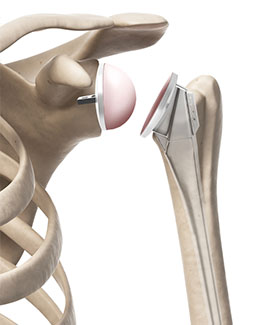 Reverse shoulder replacement is performed on patients with completely torn rotator cuffs or those patients who have had a shoulder replacement surgery in the past that did not relieve symptoms or restore motion back into the shoulder. Reverse shoulder replacement surgery is also performed on people who have painful arthritis in their shoulder and damage to the muscles around the shoulder.
In reverse shoulder replacement surgery, the position of the ball and socket are "reversed" where the ball is implanted into the shoulder and the plastic socket is implanted into the upper arm.
The surgery typically requires a fellowship-trained orthopedic surgeon to remove the damaged bone and then attach the artificial joint components to the shoulder bone. A cup-shaped piece is then implanted into the top of the upper arm bone. This reverse shoulder replacement procedure then enables the person to lift and move the arm using a different muscle than the rotator cuff.
Reverse shoulder replacement surgery is not right for everyone and it requires an orthopedic surgeon with a high level of training and expertise.
As with nearly all joint replacement surgeries, you will be under general anesthesia, which means you will be unconscious during the entire surgery. Your surgeon may require you to take antibiotics before and after the reverse shoulder replacement surgery to reduce the risk of infection.
If you need any major dental work done in the immediate future, your doctor will recommend that you have it done before the surgery. Infections can spread from other parts of the body, such as the mouth, to the artificial joint and cause a serious problem.