Knee Surgery Options
Common Procedures
Autologous Chondrocyte Transplantation
Meniscus Repair
Sometimes, if nonsurgical treatment, rehabilitation and therapy is unsuccessful, the only way to heal a knee problem may be through surgery. If the knee is irreparably damaged or has eroded away because of arthritis, then knee surgery may be the next logical step. Statistically, 20% of knee patients will require surgery.
Remember that although surgery may be a 'scary' word, today more than ever, people are recovering from surgery and regaining peak performance.
Take, for instance, tennis player Seffi Graf who won both the French Open and Wimbledon following knee surgery. Even more astonishingly, pro tennis player Richard Krajicek recovered from knee surgery after only three months and went on to beat world champion Pete Sampras in straight sets in 1998.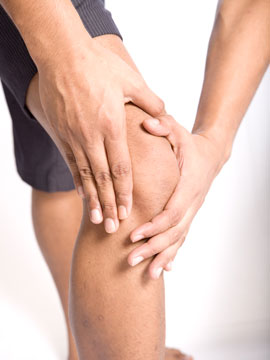 Depending on what part of the knee is actually damaged, surgery can in some cases be delayed. To highlight an extreme example, in the 1999 Stanley Cup Championships, Dallas Star hockey player Brett Hull played three periods during the final game and then played three more periods of overtime all with a grade three torn meniscus — the most severe level of an MCL tear. Although probably not the most healthy decision for his knee, playing on a torn MCL is a sacrifice he was more than willing to make at the highlight of his career as the Stars brought home the Stanley Cup that year — and, of course, he subsequently had surgery to repair his MCL. While most of us have no reason to push ourselves to this sort of an extreme, this illustrates, that surgery for even the most severe injuries can be postponed in some cases.
Essentially, when surgery is done well and the recovery period is carefully and thoroughly completed, return to athletic activity is more than likely not a problem. Below are some specifics regarding knee surgery:
Torn ACL Surgery
The Anterior Cruciate Ligament (ACL) works a lot like a guy wire that keeps the femur and the tibia stable. When an athlete tears their ACL, usually it is from a sudden impact that can cause an audible pop or at least a great deal of pain.
Generally speaking, a partially torn ACL stands a chance of recovery without surgery. If the ACL is completely torn, most will need surgery to repair the ligament. Many of those with a torn ACL will need surgery to get back to activity. The procedure itself takes about one hour.

Torn ACLs are one of the most common problems associated with sports. It is important to understand your options if you have a torn ACL.
If you have a completely torn ACL,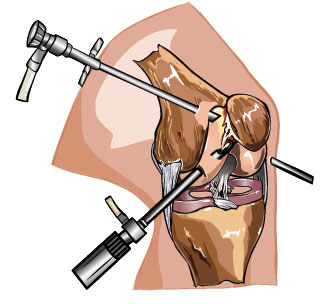 you will likely need surgery to repair this ligament. If you have a partially torn ACL, depending on the extent of the tear, some people are able to rehabilitate the knee with extensive therapy AND COMMITMENT TO EXERCISE to the point that they have use of the knee again. But you may not have the same strength in the knee joint that you had prior to your knee injury.
Generally speaking, the more you expect to play aggressive sports in the future, the more likely you will need knee surgery to repair a fully torn or partially torn ACL. If you are professional athlete, chances are you will need surgery to get back to full activity.
If you have a torn ACL, the good news is that the problem is fairly common as knee injuries go, and in the hands of a surgeon who specializes in knees, the post surgical knee can be as effective as the knee prior to injury. But most of that depends on the willingness of the athlete to invest the time to rehabilitate and strengthen the knee.
Use of the patellar tendon or hamstring to repair a torn ACL
You should be aware that repairing the torn ACL does NOT involve sewing two torn ends together. Think of your ACL as a rubber band. Once it snaps, it can not be sewn together. Instead, you have to replace the rubber band completely. And that is exactly what the knee surgeon does. They attach a new rubber band to your shin, thread it through your knee and anchor it your femur.
You should ask your physician HOW they repair the ACL. Some knee surgeons use a patellar tendon while many others use a hamstring ligament. There are pros and cons to each.
Harvesting a patellar tendon from the front of the knee makes for a more painful recovery and painful rehabilitation. However, professional athletes who are used to pain from training are more able to tolerate this approach, especially considering that the patellar tendon is viewed by some surgeons to be a higher performance replacement for the torn ligament than the hamstring. Using a hamstring ligament is less painful on rehab of the knee, and some surgeons feel that for most people, the strength of the ligament is sufficient.
Overall, most surgeons would agree that the performance of the knee after ACL replacement is directly linked to how much commitment is given to strengthening the knee with exercises. With the right knee specialist, and with specialized knee rehab, a professional athlete can regain their competitive form and play professional sports again.
Using an arthroscope, the knee surgeon can repair the knee through two tiny half-inch incisions instead of a longer incision which requires a longer recovery and causes a bigger scar. The surgeon will remove a strand from the patellar tendon or hamstring, which will ultimately become the new ACL. A hole is then drilled through the shin bone and a new ACL is threaded through. The new ligament is prepared and secured into place. A plastic dowel locks the new ACL into place. About 30 minutes later, the anesthesia will wear off and the patient is dismissed from the hospital.
During the recovery process, a patient will start off by walking around. A few months later golf is acceptable. After five or six months, the patient is usually allowed to play sports without restriction.